Ron Paul Receives Twice the Military Donations Than All GOP Candidates Combined
My hat is off to Ron Paul Forums member Lafayette for taking on the task of poring over the 2011 Q2 FEC Report to discern where the candidates are getting their support from. Here is the text of his post about it:
So i remember last election Dr. Paul had more military donations then all candidates combined ( both R's and D's)

So ran through the numbers on FEC site http://query.nictusa.com/pres/2011/Q2/
I based these numbers off the employer section. Anyone who described their employer as military.
Army, Navy ,Air Force, National Guard ,Costa Guard, Marine Corps and Dept of Defense.

An this is what i have come up with so far.

*Now these numbers are not 100% accurate, i may have missed one here or there. *

Cain $6223
Romney $5000
Bachmann $2550
Newt $1025
Pawnlety $250
Santorum $250
Johnson $0

Total $15398.00 *updated*

The Good Doctor comes in more than double all the other Republican candidates combined.

Paul $ $36739.79 *updated*

** Update** After going over Obama's numbers again it seems i missed quite a bit. There were some questionable donations but i added them in anyway.

Obama – $28833.99
Total Candidates (minus Paul) – $44231.99

Paul does not beat total donations of all other candidates combined, however hes still comes in double the Republican's combined and #1 out of all candidates.

Any help going through Romney's and Obama's donations would be much appreciated as there is a lot of information to be double checked.

* Candidate Break downs on page 9 of this thread*
Here are Paul's numbers:
ARMY 554.50
ARMY RESERVE 201.20
DEFENSE DEPT 244.32
DEPARTMENT OF DEFENSE 701.20
DEPARTMENT OF NAVY 250.00
DEPARTMENT OF THE AIR FORCE 227.60
DEPT ARMY 100.00
DEPT OF DEFENSE 1,000.00
DOD 1,869.60
DOD – US NAVY 400.00
INDIANA ARMY NATIONAL GUARD 100.00
MILITARY 1,452.40
NAVY 50.00
NEVADA AIR NATIONAL GUARD 250.00
U S NAVY 250.00
UNITED STATES AIR FORCE 451.20
UNITED STATES ARMY 302.20
UNITED STATES MARINE CORPS 301.20
UNITED STATES MARINE CORPS / GSSC 329.00
UNITED STATES MILITARY 380.00
UNITED STATES NAVY 2,877.80
US AIR FORCE 3,026.32
US AIRFORCE 212.00
US ARMY 11,057.44
US ARMY RETIRED 201.20
US COAST GUARD 451.20
US MILITARY 551.20
US NAVY 2,320.28
US NAVY RESERVE 801.20
USAF 3,051.28
USAF (RETIRED) 226.20
USCG 137.74
USMC 713.61
USN 1,201.20
USNR 500.00

Total $36739.79
and a breakdown for the other candidates
Santorum
U.S. ARMY 250.00

Pawlenty
AIR FORCE 250.00

Gingrich
U.S.A.F. 525.00
US ARMY 250.00
US NAVY 250.00

Total $1025

Bachmann
DEPARTMENT OF DEFENSE 300.00
NAVY 500.00
U. S. ARMY 250.00
U.S. MILITARY 1,000.00
U.S. NAVY 250.00
UNITED STATES MARINE CORPS 250.00

Total $2550

Romney
DEPARTMENT OF DEFENSE 250.00
DEPT OF DEFENSE 600.00
DOD 500.00
UNITED STATES ARMY 250.00
UNITED STATES NAVY 2,500.00
US NAVY 500.00
USMC 250.00

Total $4750

Cain
AIR FORCE 73.00
DOD 250.00
GA NATIONAL GUARD 500.00
U. S. ARMY 500.00
U.S. AIR FORCE 750.00
U.S. ARMY 800.00
US ARMY 1,000.00
US ARMY CORPS OF ENGINEERS 250.00
US NAVY 600.00
USAF 500.00
USAF/TEACHER 250.00
USMC 750.00

Total $6223
One way to "Support the Troops" is to support the presidential candidate they support. Dr Ron Paul. (Who is the only military veteran in the race, I'll add)
For people new to the candidacy of Ron Paul. He mostly raises his money from small individual donations and is famous for inspiring his Grassroot supporters to create a fundraising technique known as a MoneyBomb, where everyone agrees to donate on a single day. The next is two days from now and is branded "Ready Ames Fire". Please join us. I can assure you that everyone I have convinced to join in this effort has told me that they feel it is money well spent. You can sign up for a reminder on Facebook here:
https://www.facebook.com/event.php?eid=221469004546764
or visit the website here
And join us discussing events and watching the money roll on a transparent donation ticker at:
One other thing about the FEC Reports:
Lots of people will remember the headlines in mid May that proclaimed Mitt Romney raising $10mil in one day on May 16th. The FEC Report however reveals the actual number was $2.4mil. Not sure who was being dishonest here, but a supporter made this excellent graphic: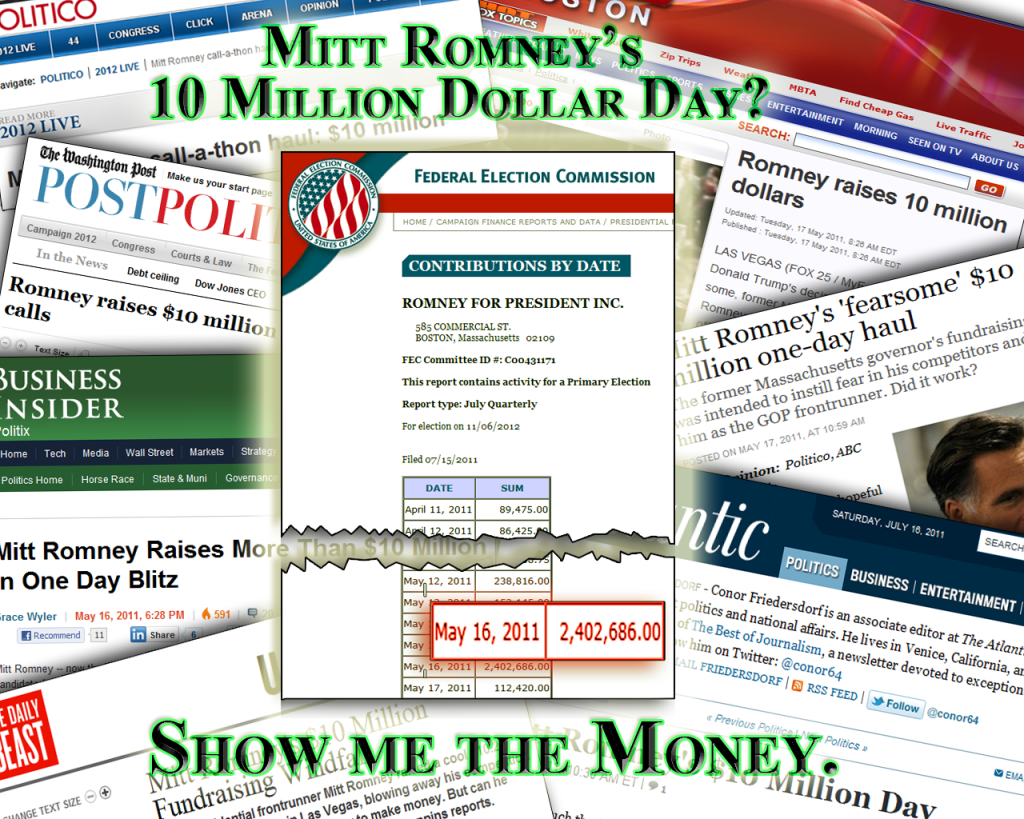 Let's unseat Obama together – Onward!